We had an awesome turnout on Friday for our tacky sweater party. I was really surprised at how many people dressed up and how amazingly horrible the sweaters were! It was so much fun, as we had a contest for the tackiest sweater, went caroling, played
SingStar
and watched
Snowball Express
. I actually fell asleep during the movie as I was dead tired from all the cooking I did and preparation for the party but I had a great time!
Here are all of us girls with our sweaters!
David and I with our sweaters. David went all out with the snow pants and santa hat!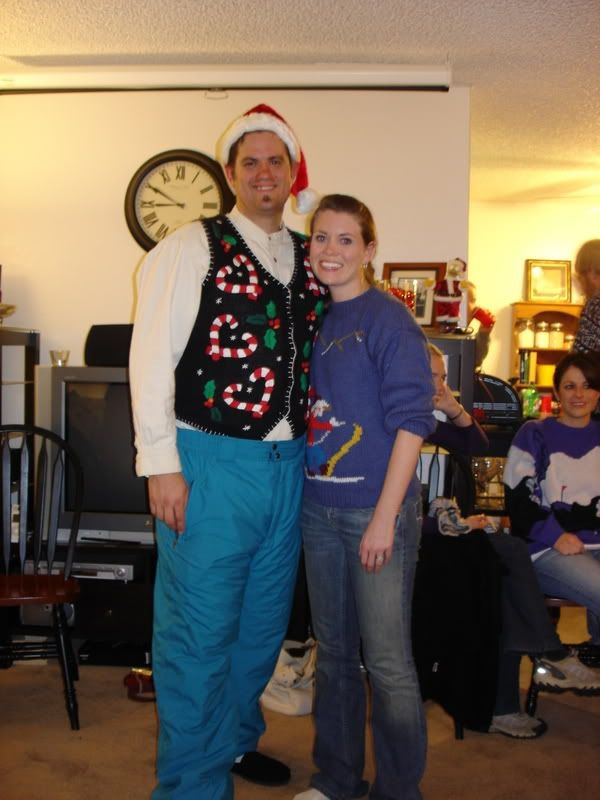 Even Jackson got dressed up for the party!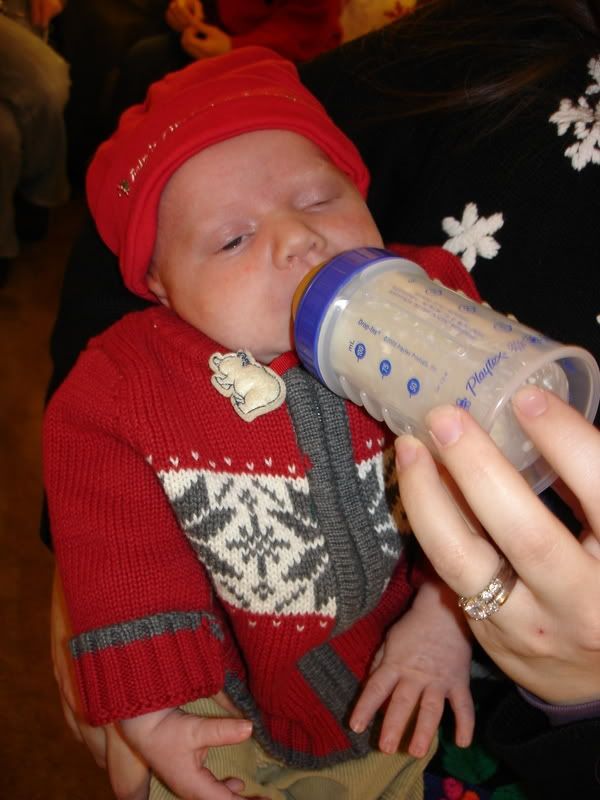 Matt and Joleen who won the contest for Tackiest Sweater
The spread of food:
As for food I made deviled eggs, spinach and artichoke dip, crossaints stuffed with chicken, green onion and cream cheese, bruschetta, phyllo turnovers filled with ricotta and shrimp and wassail. I would normally post each recipe but that would be so much work and I don't feel like it. So, I figured I would let you know how the recipe turned out and what substitutions I made and the link.
Deviled Eggs
- well I didn't really follow a recipe. I tasted it as I went. I threw in more if needed. But basically I used mayo, little bit of butter, goulden's mustard, little bit of white vinegar and paprika. I had never used the white vinegar and I think it really added that little something that was missing when I had made them in the past.
Spinach and Artichoke dip
: This was a great recipe! The only thing that I noticed is that I would add more cheese. Basically the recipe says use this much cheese and if you want to add more do so. Well I would at least double it. I didn't think it came out creamy enough but I had lots of compliments though. It's probably just personal perference on how creamy you like it.
Crossaints stuffed with cream cheese, green onion and chicken:
I was told how to make this from my mother in law so there is no recipe online to link to but I will write this one out for you.
2 chicken breasts
1 (8 oz) package of cream cheese
1/2 cup of chopped green onion
2 packages of crossaints (8 per roll)
Preheat oven to 400 degrees. Boil 2 frozen chicken breasts for 12 min on high. Once cooked, shred or chop into small pieces. In small bowl combine chicken with one 8 oz package of cream cheese and blend together. Add about a 1/2 a cup of chopped green onion. On a greased baking sheet place a teaspoon of the chicken mixture on the large end of the crossaint. Roll crossaint up like normal and tuck the ends under the bottom. Bake for 10 min. or till golden brown.
Bruschetta:
I really liked how this came out. Next time I might use a little bit less onion and I did add garlic like the reviews said. I will definitely make this one again!
Phyllo Turnovers Filled With Ricotta and Shrimp:
I got rave reviews on this one but man they were a lot of work! I didn't know what I was getting my self into as I had never worked with Phyllo dough before and it is very time consuming. I tried them and I loved the filling but the dough not so much as it was very flaky. Knowing how long it takes I might try wonton wrapers next time and see how they taste.

Wassail:
Theres no recipe to link on this one so here are the ingrediants and directions.
2 guarts of apple juice
1 can of frozen pineapple concentrate
1 can of frozen orange concentrate
10 cloves
4 sticks of cinnamon
Combine all ingrediants in either a crock pot or in large saucepan over the stove. If using crockpot, let it cook on low for 6 to 8 hours. If over the stove, cook covered on medium low heat for 2 to 3 hours.