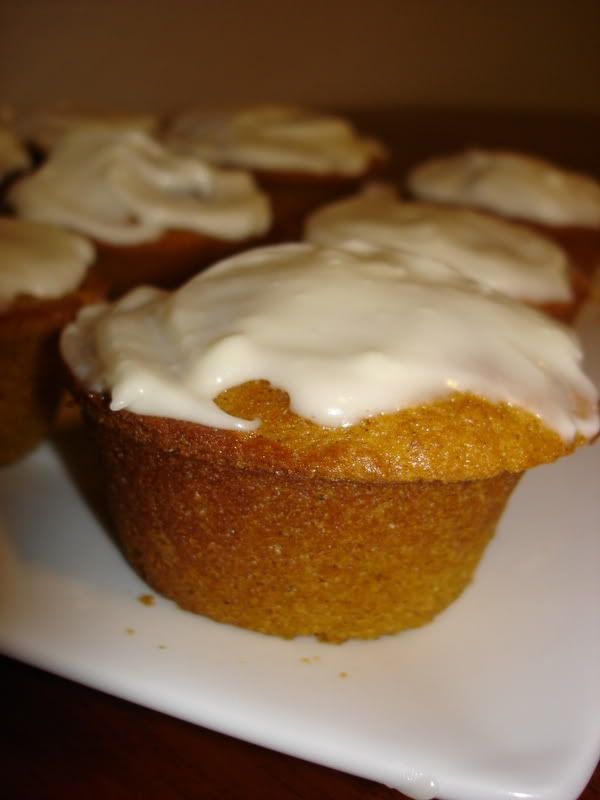 I have been dying to make something with pumpkin as I have read some many great food blogs with recipes that look amazing. This afternoon, I felt like baking and decided that I would finally make this recipe I saw on my friend
Courtney's
blog. I decided I would make as cupcakes so they would be easy to take to work as there is no way the hubby and I could eat all of these ourselves. I also wanted a little bit of chocolate in them. I considered just adding chips to the batter but decided against it as the recipe already seemed pretty rich. I put only a couple of chocolate chips on the tops of the batter before popping them into the oven. They came out so good! Once you put the frosting on you don't see the chocolate chips so its nice little surprise when you bite into them. I gave one to David to try and the first thing out of his mouth was, "Are you trying to kill me". :) Also, I got to use my Kitchen Aid mixer for this recipe! I don't use it enough but when I do I love it!

Pumpkin Cupcakes with Cream Cheese Frosting
Source:
Courtney
Yield: dozen and half
Ingredients
2 cups of sugar
4 eggs
1 cup of oil
1 (15 oz) can of pumpkin
2 cups of flour
2 tsp of cinnamon ( I did 1 1/2 tsp of cinnamon and 1/2 tsp of pumpkin spice)
2 tsp of baking powder
1 tsp of baking soda
1/2 tsp of salt
Cream sugar and eggs together, then add oil and pumpkin and mix together. Sift all dry ingredients together and add gradually into pumpkin mixture. Pour into greased cupcake pan. Add some chocolate chips to the tops of the cupcakes. Bake at 350 degrees for 15 minutes or until knife comes out clean from center.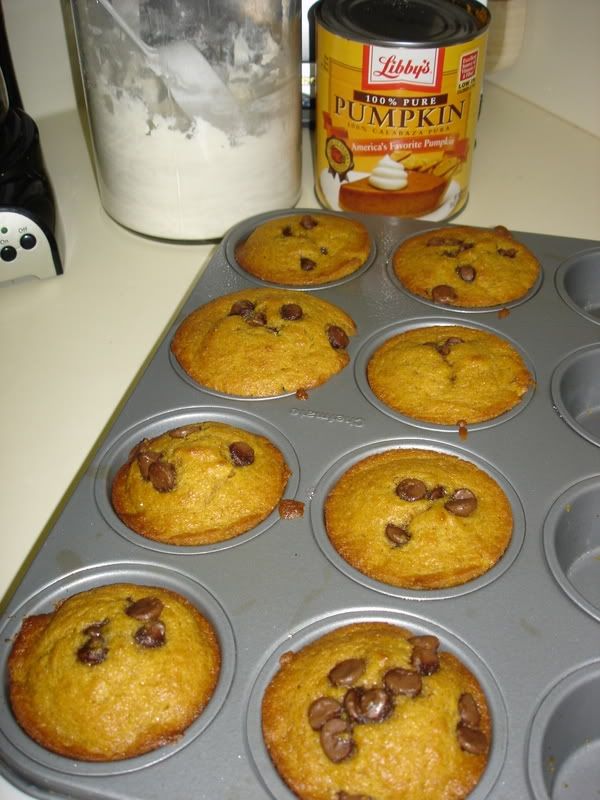 Cream Cheese Frosting
8 oz of cream cheese (I used fat free cream cheese
1/2 cup of butter
4 cups of powdered sugar
1 tsp of vanilla (I used 2 tsp.)
Cream butter and cream cheese together with a mixer. Add in gradually the powdered sugar. Add vanilla. When cupcakes are cool, frost with frosting.