Friday was the day of Tim & Patty's wedding, so we were quite busy. Before leaving on the trip, I did a lot of research on places to visit and also for good restaurants. We knew, we wanted to find a authentic Cuban place because there is no better place to get Cuban food than in Miami. Thanks to the wonderful nesties from the
Miami board
, on
TheNest.com
, as they recommended the Cuban restaurant Versailles. We headed over there for lunch and had a great meal! The girls were right on about the restaurant!
The fried Yucca was really good, especially with the garlic cilantro sauce. Yummm!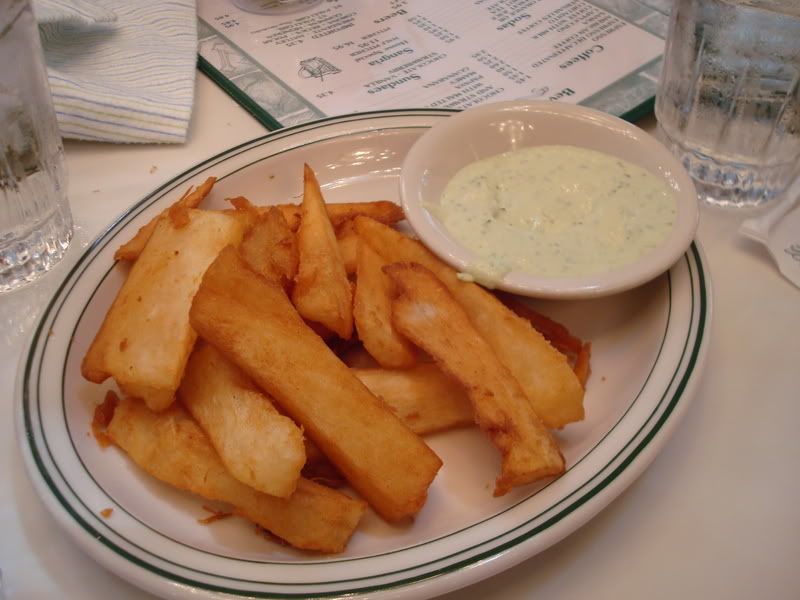 David and I both got the Chicken Versailles: chicken marinated in mojo sauce and served with a lemon butter sauce, Moros rice and Fried Plantains
After, lunch we headed next door to their bakery. I got a mango moose that was amazing. I can't believe I forgot to take a picture! We all changed into our snazzy wedding clothes and headed over to the wedding which was at the
Miami Beach Botanical Gardens
. They had so many great touches and the one I loved the most was that Patty and her dad walked into the Star Wars theme song!
The sparklers farwell was super cute as well
Hopefully, tomorrow I will have time to blog the last two days of the trip!